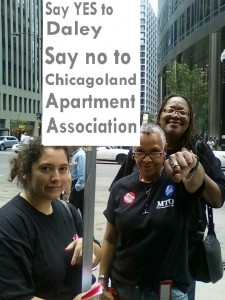 There are 550,000 renter households in the city of Chicago. On Tuesday, April 27th, 2010, they'll all have a serious matter at stake: their security deposits.
In response to the foreclosure crisis, Mayor Daley has proposed a bill that would make banks that foreclose on a building responsible for the security deposits.  Chicagoland Apartment Association (CAA) has responded by attaching an audacious and dangerous amendment to this bill.
The CAA amendment would allow landlords and management companies to keep the security deposit and interest of their tenants, penalty free, unless the tenant requests their money back in writing.
In 1986, aldermen debated how to get landlords to comply with the RLTO's security deposit requirements. The consensus was strong penalties for violations as the most cost effective method to get landlords to comply. The CAA amendment sharply limits those penalties by eliminating consequences for mismanagement of the tenant's money until the tenant writes a letter.
This amendment puts the burden on the tenant to annually notify the landlord to fulfill their legal obligations. It will have a disparate impact on the most vulnerable tenants, particularly those with literacy, writing, and language issues, and for those tenants with landlords who are hard to contact. MTO and renters in the city of Chicago will not allow this to happen.
Today: Call Mayor Daley and thank him for protecting tenants impacted by foreclosure. Ask him to oppose the Chicagoland Apartment Association's unreasonable amendment. Call him now at 312-744-3300.

Call Alderman Stone, Chairman of the Buildings Committee, and ask him to strike down CAA's amendment to Chicago's security deposit laws.  Call him now at 773-764-5050.

Call your Alderman and ask him or her to be a champion for your rights.

Tuesday, April 27th: Come and show City Hall that you will not tolerate your security deposit rights taken away.
Where: City Hall, 121 N Lasalle St, 2nd Floor Lobby
When: 9:30am-11:30am this Tuesday, April 27th