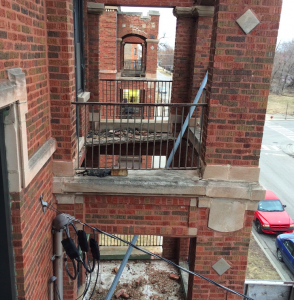 When MTO organizers arrived this week to speak with tenants at a south side property, building violations became readily apparent, and downright terrifying. The floors and ceilings in many units are literally caving in. Other units' balconies have collapsed, leaving tenants with second-floor doors that open up to sheer drop-offs. It is difficult to fathom how the owner, the bank, and the City have allowed the property to deteriorate to such a horrendous condition. It seems criminal. The property, located on W. 72nd Street, is being foreclosed on by BMO Harris Bank. A receiver, Millenium Properties, has been court-appointed to manage the building. They've asked the tenants to leave.
This isn't the first time BMO Harris bank has endangered Englewood residents. In December 2015, we reported on BMO Harris' attempts to skirt Chicago's foreclosure law at another building just one block away. BMO's actions there caused the eviction of five families. BMO offered "token" relocation assistance instead of the $10,600 required by the Keep Chicago Renting Ordinance. This is the same building where BMO's receiver hired a white contractor to board the place up. He arrived for the job driving a truck proudly displaying a Confederate flag.
How will the latest saga with BMO Harris Bank end? Will the bank do the right thing?
Please call BMO Harris and demand that they:
Follow the law

Pay the tenants relocation assistance, and
Respect the human rights of Englewood tenants!
Call and email BMO Harris rep Mike Koontz
262-827-6577 | michael.koontz@bmoharris.com

 Tweet to @BMOHarrisBank and @MPIrealestate