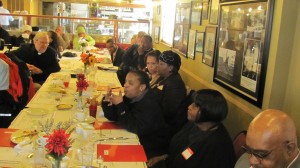 MTO, Access Living and Progress Center Illinois held a Prayer Breakfast regarding the Source of Income amendment on January 15,  2013 at Pearl's Place in Chicago.  Over forty pastors and community leaders from across the city and suburbs were in attendance to hear from Housing Choice Voucher holders about experiences with discrimination based on their income.
Currently, the City of Chicago already prohibits landlords from discriminating against voucher holders.  In the suburbs of Cook County, landlords can and do deny people housing solely because they have a Section 8 Housing Choice Voucher.  The Source of Income amendment is a protection that would require landlords to consider renting to Housing Choice Voucher holders.  It would not force a landlord to participate in the program if the tenant does not meet typical requirements (i.e. poor credit rating, bad landlord reference).  The amendment would give people with vouchers the equal opportunity to housing.
On Thursday January 24, 2013 from 2-4 pm at Progress Center Blue Island, MTO, Access Living and Progress Center IL invite you to attend a Town Hall meeting discussing housing discrimination.  Come out and share your experiences with us, and help end housing discrimination and segregation.  If you believe in equal opportunity, join us and show your support.  For more information/transportation call us at 773-292-4980 ext. 224.