Condo Conversion Ordinance Passes Housing Committee on Way to Becoming Law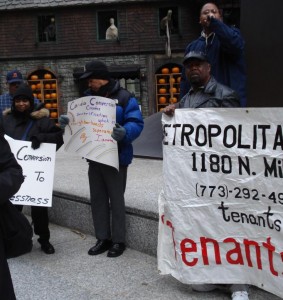 Update from the Chicago Tribune:
Mayor Richard Daley today angrily rebuked real estate groups that he said helped stop his plan to protect renters whose buildings are converted to condominiums.

Daley's renter protection proposal failed to get a vote from the City Council, which sent the package back to committee for further consideration.
Read more at the Chicago Tribune's Clout Street
After years of advocating for changes renters and condo buyers are on the verge of winning significant rights when an apartment building is converted to condominiums.
MTO tenant leaders have played an important part in getting the ordinance before the city council.  MTO began its condo conversion campaign in 2005 when large number of tenants began calling the Hotline.  Many tenants were receiving 30-day notices of termination of tenancy in violation of the Chicago Condo Ordinance requiring a 120-day notification when a landlord is converting a building.  Unscrupulous developers take advantage of loopholes in state and city laws to do "stealth" condo conversions.
MTO brought tenants and community residents together to confront the problem.  A  march and rally was held on September 30th , 2006. A demand was made for public officials to address the dilemma renters are put in when developers attempt stealth conversion. Ald. Preckwinkle and Ald. Hairston attended the rally. The rally caused the Mayor to convene the Mayor's Condominium Conversion Task Force on October 23rd 2006 to address the issue. Although the Task Force was formed they would not hold a meeting for almost a year.
In September 2007 MTO along with tenants and organizations from across the City held an action in front of City Hall to demand that the Mayor's Task Force on Condo Conversion meet. The action led the Task Force to begin holding regular meetings.  MTO leaders attended every meeting and testified to the need for a renter to be appointed to the Task Force.  After months of work, tenant leader, Elizabeth Todd, was asked to join the Task Force to address the needs of renters. The new ordinance is a result of their recommendations of the Mayors Task Force on Condo Conversion and the input of tenant leaders from across the city working with MTO.
The ordinance increases the time of tenants to be notified from 4 to 9 months. It requires relocation assistance of $1,500 to renters being displaced. The ordinance also establishes a Condominium Registration Program for new and converted condos.
We at MTO would like to thank the Mayor, Task Force chairman, Alderman Ray Suarez, all the members of the Task Force and the hundreds of tenants who worked hard to pass this ordinance.