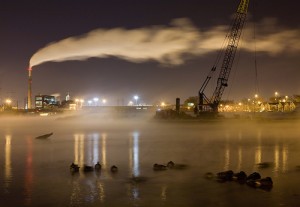 MTO's offices are located directly across the street from the Fisk Generating Station and very near Perez Elementary School.
New monitoring data obtained by the Tribune reveal that high levels of toxic lead frequently lingered in the air last year outside an elementary school in the predominantly Latino enclave that is attended by nearly 500 children.

Average lead levels at Perez Elementary School were at or above federal limits during three three-month periods in 2010, the data show. Lead pollution exceeded health standards during a fifth of the days monitored and, on one day in December, spiked more than 10 times higher — findings that alarm even veteran investigators.
Read more here at chicagotribune.com.