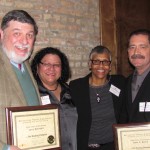 Friends, activists and dignitaries packed the upstairs lounge at Revolution Brewing for Metropolitan Tenants Organization's annual Renters' Spring Celebration.
This year's celebration commemorated the 45th anniversary of the passage of the federal Fair Housing Act.  Honorees for the evening included Cook County Commissioners Larry Suffredin, Robert Steele and Jesus Garcia as Fair Housing Champions.  MTO recognized the Commissioners for their support of fair housing standards in the suburbs and for their work on the Source of Income legislation to end discrimination in Suburban Cook County.  Beto Berrera of Access Living and Kate Walz of the Sargent Shriver National Center on Poverty Law received Tenant Champion Awards for their work with tenants facing discrimination and their advocacy to expand fair housing laws.  The Ralph Scott Award, named in memory of longtime Chicago community activist and environmental health advocate Ralph Scott, was awarded to Rose Green of New Directions for Change in recognition of her leadership among renters throughout the city to fight for housing justice.
"It was a pleasure to honor Rose Green, Kate Walz, and Beto Barrera – three exemplary advocates for tenants in Chicago. It was also great to see so many old friends. I'm glad I came and will look forward to coming again next year!" Brian White, Charter One Bank.
View more photos from the event!