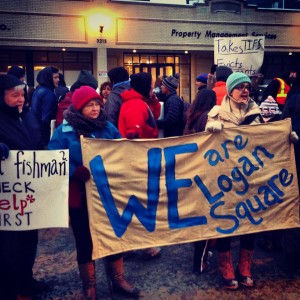 Mass evictions and drastic rent increases have long been a staple tool of unscrupulous real estate developers. Now, tenants in 2536 N. Sawyer, a 50-unit apartment complex in Logan Square purchased by M. Fishman & Co., are fighting back. Tired of "pay up or get out" tactics, tenants and community members held a picket and march outside of the Fishman offices Thursday night. The crowd, full of children, families and local residents, received honks of support as they chanted "Fishman Equals Mass Eviction!" After attempting to deliver rent checks, and getting denied by Fishman staff, tenants shared testimonies about their experiences with Fishman. Afterward, the crowd marched to Fishman-owned Logan Theater (M. Fishman bought and rehabbed the Logan Theater with $1,000,000 in TIF money) to distribute leaflets and speak with patrons. Tenants are outraged that a developer who used money from the community is now displacing it.
In December, M. Fishman gave many rent-paying tenants 30-day eviction notices or a 250 dollar rent increase. Tenants include veterans, seniors, and young mothers. Many of the children in the building have attended local public schools for years. Ined Rosario says "We deserve respect and the right to be heard. We won't be pushed from neighborhood to neighborhood because we can't afford it. We're people and our lives are worth more than money."
Mark Fishman, President of the company and resident of Deerfield, IL, started an organization called I am Logan Square to "support the arts and cultural development". Yet tenant Paul Donnely says, "through these evictions, Mark Fishman shows that the working families who already are Logan Square aren't even considered in his development plan." 
Tenants have requested to meet with M. Fishman & Co. Initially, M. Fishman employees agreed to meet with 2-3 representatives. However, after tenants asked that they meet with everyone affected, that offer was verbally retracted, and written communication to the tenants from Fishman and Co. has completely ceased. Tenants and organizers say Thursday's action is just the beginning.