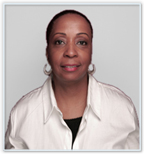 This year at our Annual Healthy Homes-Healthy Chicago Spring Celebration, MTO will honor Gloria Seals, Intervention Coordinator for Sinai Urban Health Institute, for her outstanding leadership and dedication to improving asthma symptoms for children and adults across the Chicago land area. Gloria has worked in the health care field for the past 25 years and has been with Sinai Children's Hospital and Sinai Urban Health Institute (SUHI) since November 2000. Currently, Ms. Seals serves as the Intervention Coordinator of the Controlling Pediatric Asthma through Collaboration and Education project. The project sends Community Health Educators into the homes of families with uncontrolled asthma. The Health Educators work with the patients and families to control symptoms by ensuring proper use of medications and through helping families to get rid of home-based triggers of asthma attacks.
Gloria and the Health Educators often partner with MTO Healthy Homes Organizers to eradicate home-based environmental triggers. The innovative program has drastically reduced hospital visits by as much as 75%. Gloria is the key to programs success as she trains, oversees, and supports Community Health Educators and their supervisors in six target areas throughout Illinois. She is not afraid to get out in the field and work with clients or Home Health workers. Without Gloria and her team of Health Educators, MTO could not do the work it does to make homes healthier for these families. She makes the program work and the program has worked for hundreds of Chicago's residents who suffer from the often frightful and debilitating effects of chronic asthma.
Please join us in honoring Gloria on Tuesday, April 29th at Revolution Brewing. Click here to purchase a ticket or make a donation so that another person may attend in your place!