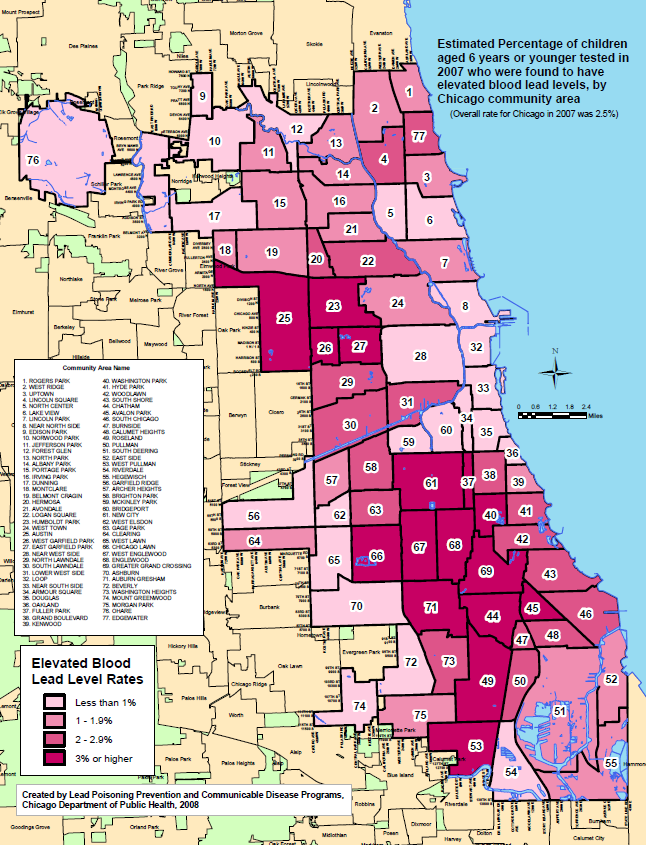 The vast majority of lead poisoned children are poisoned within their own homes. Therefore, MTO's mission to help renters live in safe and affordable housing would be incomplete without helping tenants take action against unhealthy homes in the City of Chicago.
Parents of young children (6 or under) are encouraged to contact us through the Renters' Rights Hotline or by direct self-referral. Parents will receive information on building age and results from past city inspections. Parents can also talk in-depth with a Healthy Homes Educator about actions they may take to ensure their children & homes are lead-free.
Parents who suspect their is deteriorated lead based paint in their home or whose child has an elevated blood lead level (EBLL) should request a free lead inspection from the city of Chicago.  Lead dust hazards are nearly always invisible. Only a lead inspector can ensure a home is lead safe.  If hazards are found, parents will be given the tools and information to make sure their child is not further affected by the poisoned environment, either by seeking a timely abatement of the hazards or moving to a lead safe residence.  There is generous financial assistance available for landlords and homeowners seeking to rid their home of existing lead hazards.
If you would like speak with a Healthy Homes Educator about childhood lead poisoning, please contact call 773.292.4980 x 225.  In order to receive information about your home in a timely manner, please be prepared to provide your first and last name, full address, phone number, renter/owner status, and the age of children residing in the home.  All case information will remain strictly confidential.
Visit our Lead Paint – FAQ page for additional information about lead based paint.
Know the facts about lead:
Lead is a metal that is found in many places like paint, dust, or dirt.  You can't always see lead, even when it is present.
Lead in the body is not safe at ANY level.  It only takes a very small amount to cause damage.
Childhood lead poisoning can lead to life-long health problems, including learning disabilities, increased need for special education and higher crime rates.  Lead harms the brain, making it harder for children to learn and can cause behavioral problems.
Most children do not have any physical symptoms.  Warning signs include:  stomach pains, constipation, poor appetite, sleep problems, irritability, headaches, weakness, or loss of a recently learned skill.
Children are most often exposed to lead in their home and at places they visit.
Lead was added to paint until 1978.
In housing built before 1978, assume that the paint has led unless tests show otherwise.
Children eat lead by getting lead on their hands and then putting their hands in their mouth.
Make sure your child does not have access to peeling paint or chew-able surfaces painted with lead-based paint by creating barriers between living/play areas and lead sources.  You can temporarily apply contact paper or duct tape to cover spaces with sources of lead.
Regularly wash your children's hands and toys.  Both can become contaminated from household dust or exterior soil.
Regularly wet-mop floors and wet-wipe windows–dry-dust, sweeping or vacuuming will spread lead dust.
Wipe dirt off shoes before coming inside your home.
Whenever new exposures to lead may have occurred, have your child tested.
DO NOT disturb paint without protecting your family from the dust that occurs during abatement.
Feed your child 3 healthy meals a day–a diet high in iron, calcium and Vitamin C will help fight any lead in a child's body.
Do not use pottery for cooking or serving until you are sure of its glaze.  Pottery can be contaminated with lead.
Draw drinking water and cooking water only from the cold tap.  Let it run for a few minutes first.
Teach your child to wash their hands before eating.
Make sure that products your child plays with are safe!