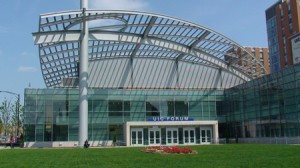 By Noah Moskowitz, MTO Intern
Amid the muffled chaos of a thousand people looking for their seats, I heard "What does affordable housing mean to you?  The mock-interview question was posed to me by a friend working for the union "Unite Here."  At the Chicago People's City Council Meeting, activists from a dozen community organizations met to form a crowd 1,400 strong, whose animation made it clear that the issues discussed, like affordable housing, were of deep importance.
I realized I didn't have a great answer. "Access to a home and other basic needs?"  The event was formatted as a "debate" between 'Mr. Moneybags' (an organizer transformed by a comical top hat) and a series of activists, each personally affected by the problems they discussed.  After each exchange the crowd "voted" (by standing/applauding) in favor of proposals offered by one or another of the interlocutors. These proposals tackled insufficient public funding for education, disappearing jobs, deteriorating working conditions, home foreclosure, and of course, affordable housing. It was argued that the backdrop shared by all these issues is their source in massive proposed budget cuts to a range of local public services. These cuts appeared particularly perverse when juxtaposed with the millions Chicago government recently gave to large corporations and banks in the form of tax breaks or Tax Increment Financing (TIF) funding.
Each activist on the platform spoke about the problem at hand, how it affected them, and how it could be traced to irresponsible distribution of government funds.  A teacher spoke about how she had more than 30 students in her elementary school classroom. A public employee argued for the importance of his job in the Parks department, but discussed how that sector was shrinking dramatically. Others talked about rising costs of government subsidized housing, foreclosure experiences, and the tightening of government programs like food stamps. The format was meant to be humorous, but the stories the audience heard were sobering and serious, and were as eloquent a call to action as any I've heard.
After the event, I had a much better answer. True affordable housing means housing that does not come at a crippling cost to the individual or society. We can't afford housing if it comes at the expense of good schools, good jobs, or a fair justice system. We can't afford those decisions, and we should not have to make them.
The meeting concluded with the unveiling of the People's Resolution, a summary of frustrations and a commitment to working families, public services, and responsible government. Each of the 19 aldermen present signed the resolution and spoke out in support.  In addition to these outcomes, the event provided momentum to coalitions organizing around fair federal budgeting, and testified to the effectiveness of organizational collaboration.