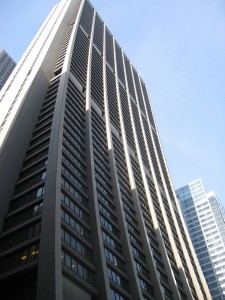 This weekend, the residents of 7263 S Coles face homelessness. JP Morgan Chase has failed in its responsibility for maintaining this 30-unit property since 2008. For two years, Chase has allowed the building to deteriorate to such a degree that the city of Chicago, due to safety concerns, stepped in and ordered residents to vacate the property this coming Saturday, July 17th. These families will be put out on the street and to date, Chase has refused to assist these families with relocation despite their neglect of the general building maintenance being the very cause of this building being condemned by Chicago building inspectors.
Join MTO, tenants, and concerned community members this Thursday, July 15th at 11:30am at Chase Tower, 10 S. Dearborn in Downtown Chicago.
Rental properties across the city are deteriorating because the banks responsible have done nothing. For residents, the choice is especially stark – live in substandard conditions or leave the homes they once cherished. This crisis has been developing for years and is getting out of control. Banks have done little or nothing to save our homes and have allowed our communities to weaken.
WE WANT:
Banks to be responsible for maintaining buildings in foreclosure
Relocation assistance for the families being displaced by banks that ignore their obligations
A foreclosure stabilization plan that would promote building maintenance and preservation, thus preventing displacement and abandoned buildings.