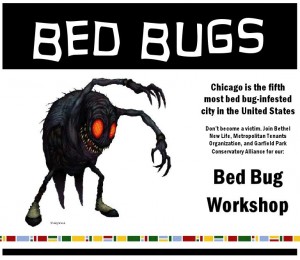 Thursday, December 2nd, 2010
6:00pm to 7:30pm
Garfield Park Conservatory
300 N. Central Park, Chicago
A bed bug expert from the Metropolitan Tenants Organization will tell you what bed bugs look like, describe signs of an infestation, and outline what to do and what not to do if you have bed bugs.
No need to RSVP and the workshop is free and open to the public. For more information, please contact Kristian at 773.826.8430 x 229 or kmoore@bethelnewlife.org.
Thank you to MTO's partners, Bethel New Life and Garfield Park Conservatory Alliance.