Round 2 is on Monday, May 24th.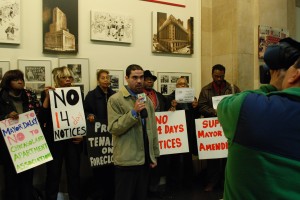 Tenants and activists gathered in the second floor lobby of City Hall Tuesday April 27th before the Building Committee meeting to express their support of Mayor Daley's amendment to hold banks accountable for tenants' security deposit in the case of foreclosure. Among them was Peter Mclennon, representing Cook County Clerk David Orr (the Residential Landlord and Tenants Ordinance sponsor in 1986). He urged rejection of the Chicagoland Apartment Association's amendment being put forth by Alderman Stone. According to Charlotte Starks, a tenant and hotline counselor, "Security deposits being kept by landlords is as prevalent as domestic abuse, in that it does not have a face, does not have a color, it doesn't have an address. It's done city-wide, in all of the wards."
Following the press conference, participants went to room 201A to prepare to testify before the Buildings Committee. The presence was so large that the meeting was moved to the City Council Chambers to accommodate everyone.
Alderman Shiller started the hearing by proposing a subcommittee that would be able to address problems brought forth by landlords and tenants. Alderman Stone chose to hear all testimony from landlord and tenant groups. Approximately 30 people testified to the committee, including Joel Rivera, a tenant turned volunteer counselor for MTO's Renter's Rights Hotline, testified "By providing the LL with a 14 day notification prior to any lawsuits regarding the deposit, its basically contradicting a law that the landlord should already know. Upon signing a lease, the landlord is obligated to the RLTO to provide each tenant with a copy of the ordinance summary. So off the bat, the landlord should already be responsible for what his rights are towards the tenant." John Bartlett, Executive Director of MTO, explained MTO's desire to work with good landlords on their concerns with the law while simultaneously ensuring loopholes are not opened in the current law that would make it easier for bad landlords to take advantage of their tenant's money.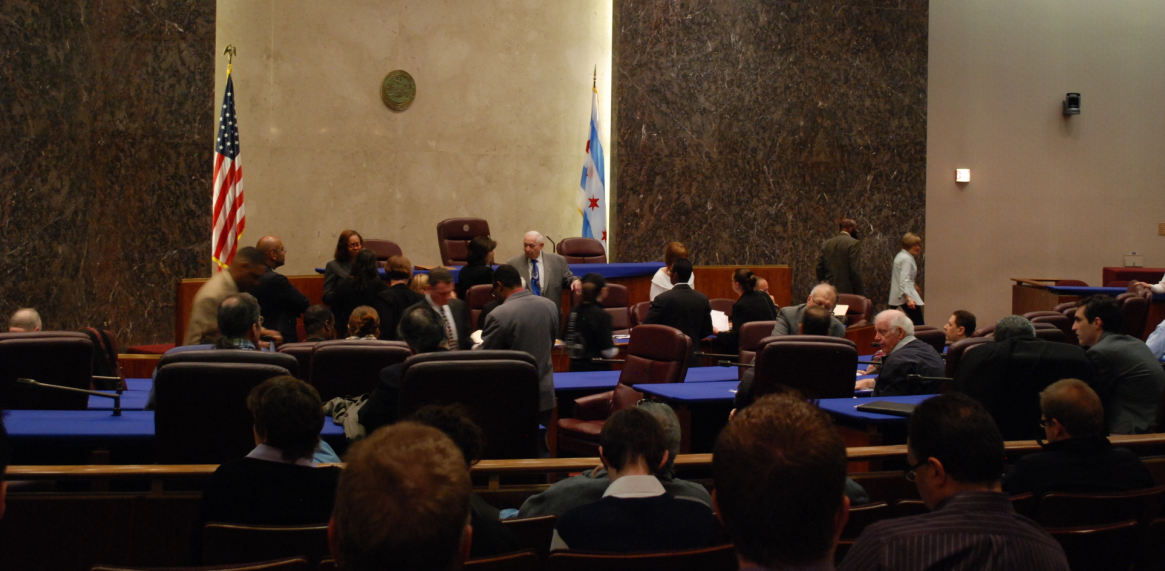 Three hours later, after everyone had had their say, Alderman Latasha Thomas stated her support of forming a subcommittee to resolve the issues brought up by those that had testified. Alderman Hairston believed a happy medium could be found between landlords and tenants in a subcommittee. Deputy Commissioner Ellen Sahli explained Mayor Daley's proposal, specifically that his proposal does not tip the delicate balance in the RLTO away from landlords – instead, it would only affect lien holders, such as banks and only in the case of a foreclosure. Deputy Commissioner Sahli stated her support of a subcommittee and her opposition to Alderman Stone's amendment.
Chairman Stone explained that his intent with the amendment was to "correct the rigidity of the ordinance." Alderman Shiller responded that she wanted to address this, but that the "14-day cure" changes economic incentives and changes consequences to landlords if they do not follow the security deposit law as written. Chairman Stone responded that he did not want to be a block on the Mayor's ordinance. The Buildings Committee then voted unanimously to pass the Mayor's ordinance onto the full council without any amendments attached. The two amendments will be considered in the new subcommittee headed by Alderman Shiller.

Alderman Shiller's subcommittee is tentatively scheduled for Monday, May 24.  The committee will continue to look at the amendments proposed by Aldermen Stone and Shiller.  It is important for renters to continue to come attend hearings as we expect the Chicagoland Apartment Association to continue to press for a weakening of Chicago's ordinance.  Tenants need to inform the alderman of problems they face with security deposits.  If you are interested in testifying at the next hearing please contact  Loreen Targos at 773-292-4980 x 231 or by email at loreen@tenants-rights.org.