What is lead poisoning?
Lead is a poison that impacts everyone, especially children ages 6 years and younger. Lead can harm the brain, nerves, kidneys, digestive system, hearing and cause muscle and joint problems. Even at low levels, lead can affect cognitive abilities causing a lower IQ and learning disabilities. The effects of lead on the body and brain are irreversible.

How is lead related to your home?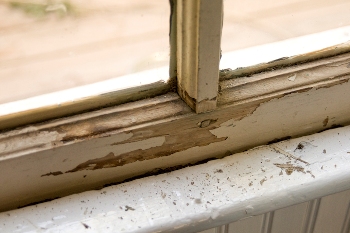 Lead was used in paint prior to 1978. Most homes built prior to 1978 have some lead in them. Over 70% of homes in Chicago were built before 1978. Paint made prior to 1950 was especially high in lead. The older the home, is the greater the potential for lead hazards. Invisible lead dust, not paint chips, are the main source of lead poisoning. Windows and porches are the most likely sources of lead hazards in your home.

Are there other sources of lead around my home?
Yes. Soil in and around your home may contain lead. In older homes, some water pipes may contain lead.
What if I have lead paint in my apartment?
Most apartments built prior to 1978 have lead paint. Lead paint becomes hazardous when it is disturbed by friction, impact and moisture which causes the paint to break down into dust. If you suspect your apartment has a lead hazard (ie. chipping paint) call the Renter's Hotline for more information. If there is a child aged 6 or under residing in the home, you may enroll in the free Safe and Healthy Homes program for personalized information on how to prevent lead poisoning in your home.

What should I do if there is a lead hazard in my unit?
Inform the landlord. Call the Renter's Hotline [link]. Call the city of Chicago's Childhood Lead Poisoning Prevention program at 312.747.LEAD[5323]. You may request an inspection. The Department of Health has several programs that may provide financial assistance to landlords or homeowners seeking to replace old windows.
If the landlord refuses to make repairs and old paint is pulling away from the wall, cracking, chipping or peeling and it is a code violation, you can give the landlord a 14-day written notice to reduce your rent. See "Apartment Repairs and Conditions"
Does my landlord have to inform me if there is lead in my apartment?
Under federal law, at the start of a tenancy, the landlord must provide tenants with a lead disclosure form that details any known lead hazard in your unit or the common areas and a copy of the EPA booklet "Protect Your Family from Lead in your Home". Under 2004 Childhood Lead Prevention Act, the landlord must also post a notice if a lead hazard has been found in another unit. That notice must remain posted until all documented hazards are properly repaired.
If there are renovations or repairs being done in my building, does that expose my family or me to lead?
Maybe. If your home was built before 1978 [find out here: www.newschicago.org], your landlord or the contractors (s)he has hired must follow the EPA's Renovation, Repair, and Painting rule, which came into effect on April 22nd, 2010.
Watch this video to know what precautions contractors are now required to take if working in a building built before 1978. Contractors must be certified and must follow specific procedures to prevent possible lead contamination.
Homeowners and Landlords – There is money available to make repairs to lead hazards, including for window replacement. Income qualification can be based on tenants' income. Learn more here.
Learn more about MTO's free lead poisoning prevention program here.
Still can't find the answer? Send us your questions. Please allow several days for a response.
To speak with a Healthy Homes Organizer – call Meg Borneman 773.292.4980 ext. 231 or email meg@tenants-rights.org