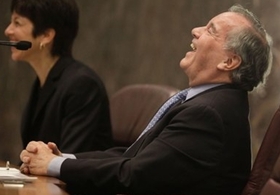 CITY COUNCIL PASSES CONDO CONVERSION ORDINANCE
With Mayor Daley overseeing his final Chicago City Council meeting, the aldermen unanimously passed a condo conversion ordinance.  The ordinance represents five years of struggle on the part of tenants, condominium buyers, community organizations and advocates.  This legislation will protect tenants and condominium buyers caught in the instability created by the conversion of rental buildings to condominium buildings.
The roots of this ordinance are found in the condo craze of 2005 to 2007, which ultimately contributed to the mortgage crisis and related foreclosure crisis.  In 2006, renters were being ejected from their homes with minimal to no notice and left those purchasing converted units with few protections against what was often a speedy and poorly implemented conversion process.  Quickly, those victimized in the process, along with their advocates, recognized the need for protections to be put in place.  This outcry resulted in Mayor Daley appointing Alderman Ray Suarez to lead the Condo Conversion Task Force.  The Task Force's work spanned almost four years and ultimately led to an ordinance that provides renters and condo buyers with critical protections including:
Changing the notification period from 120 days to 180 days.  For seniors and those with disabilities, notification would change from 180 to 210 days.
Low and moderate income renters receive relocation assistance.  The assistance equals the larger of one month's rent or $1,500 (up to a maximum of $2,500).
Consumer protections for condo buyers.
According to Zakiyyah S. Muhammad, a victim of condo conversion, "I enjoyed fighting for protections for families who rent so that they can avoid the devastation that I encountered.  This ordinance has been a long time coming; when you fight you win!"  MTO celebrates the victory for tenants' rights and the clear demonstration that tenants, working together, have the power to create change to protect their rights to safe, decent and affordable rental housing.
In another victory for affordable housing advocates, the City Council passed the Sweet Home Chicago Ordinance which allows TIF funds to be used for maintaining affordable housing.
The full text of the Condo Conversion Ordinance can be found here.
Foreclosure (Right to Possession) Law: Public Act 095-0262
Illinois Condo Conversion Ordinance
Illinois State Preservation Ordinance
Illinois Code of Civil Procedure – Eviction – Sets out in detail the procedures and methodology of eviction court cases.
"New" Illinois Condo Conversion Law – Outlines a tenant's rights and a developer's responsibilities in converting rental property into condominiums for purchase.
Illinois Rent Concession Act – Statute requires disclosure of all rent concessions in leases so that potential buyers, etc. are not misled or deceived by secret and undisclosed concessions made by landlords to tenants.
Illinois Rent Control Preemption Act – State law provides that no local government like Chicago can regulate the amount of rent charged by landlords for residential and commercial property.
Illinois Rental Property Utility Service Act – Complex statute relating to the regulation of charges to tenants for utility services. The main provision relates to a tenant paying for common areas of a building and in such event, the court may treble the damage award when the court finds that the landlord's violation of this Act was knowing or intentional. The tenant may also recover costs and fees, including attorneys fees, if the amount awarded by the court for utility service is in excess of $3,000.
Illinois Residential Tenants' Right to Repair Act – Gives tenants the right to do certain repairs to their apartments and to deduct such payments, with proper documentation, from their rent. The state statute falls short of tenants' rights under The Chicago Residential Landlord and Tenant Ordinance.
Click here for a sample Illinois "Repair and Deduct" letter
Illinois Retaliatory Eviction Act – Protects tenants in the State of Illinois from a landlord failing to renew a lease when the tenant has complained to a governmental agency about building code violations and the need for repairs. The state statute falls short of tenants' rights under The Chicago Residential Landlord and Tenant Ordinance.
Illinois Safe Homes Act –  Allows the victims of domestic violence, dating violence, sexual assault, and stalking to terminate their lease by proper notice to the landlord. Also, changing locks is also provided for in this new law.
Safe Homes Act of Illinois (Domestic Violence)
Safe Homes Act Violence Against Women Flyer (English) (Spanish)
Safe Homes Act Violence Against Women Brochure (English) (Spanish)
Illinois Security Deposit Interest – Provides for the payment of interest on security deposits where the number of units in a building or in a complex of buildings exceeds 25 in number. If the failure is WILLFUL then damages are due to the tenant equal to the amount of the security deposit plus attorney's fees. The state statute falls short of tenants' rights under The Chicago Residential Landlord and Tenant Ordinance.
Illinois Security Deposit Return Act – For all properties of 5 units or more, provides for the return of the tenants security deposits. If the amount is not refunded in a timely fashion and/or if inadequate documentation of deductions is present, then damages equal to two times the amount of the deposit may be imposed. It provides for the liability of the seller and buyer of residential property as to security deposits of tenants. The state statute falls short of tenants' rights under The Chicago Residential Landlord and Tenant Ordinance.
Illinois Landlord and Tenant Act – Statute providing that landlord may NOT exempt themselves from payment of damages to a tenant due to negligence of the landlord.
Illinois Tenant Utility Payment Disclosure Act – Allows owners to pass along utility charges made under a MASTER billing arrangement provided the tenant gets certain information in writing as to the formula used to assess such costs to individual units and so that there is no excess charges passed along to occupants of separate units.
Public Act 095-0262 – This law sets out the rights and procedures to be followed during a foreclosure (Right to Possession).