Not on Our Backs: Stop the Slash-and-Burn Budget Cuts to HUD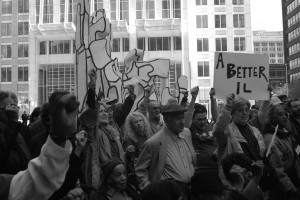 Friday, February 25th
4pm – Teach In and Testimonies; 77 W. Washington – The Chicago Temple
4:45pm – March and Rally at the Thompson Center; 100 W. Randolph – Corner of Randolph and Clark
23.8% cuts to HUD's budget will devastate Illinois communities
Just a few of the specifics include…
67% – 70% cuts to Housing for the Elderly & Disabled
Over $78.3 Million will be cut from IL's public housing budget, leading to unsafe conditions & continued demolitions while over 118,000 families languish on IL public housing and voucher waiting lists
Funding for Community Health Centers is cut 46%
We need you to come out and make your voices heard! RSVP to Sara Mathers at 773.292.4980 x 240 or by email at sara@tenants-rights.org.
Sponsored by the Chicago Housing Initiative, Kenwood Oakland Community Organizations,  Jane Addams Senior Caucus,  Logan Square Neighborhood Association,  Lakeview Action Coalition, Metropolitan Tenants Organization,  O.N.E.,  Southside Together Organizing for Power

Co-Sponsoring Organizations:  Access Living,  Action NOW,  Chicago Area Fair Housing Alliance,  Bickerdike,  Chicago Coalition for the Homeless,  Coalition to Protest Public Housing,  Housing Action Illinois,  Interfaith Housing Center of the Northern Suburbs,  Sargent Shriver National Center on Poverty Law, and growing.