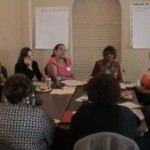 On March 31st HUD Subsidized tenants from all over the city gathered together for a forum to discuss issues in their buildings.  The goal of the Issues Forum was to identify problematic issues within HUD subsidized buildings in the city of Chicago and to move towards solutions.  MTO worked with organizers and tenants from various community organizations throughout the city such as STOP (Southside Together Organizing for Power), O.N.E. (Organization of the NorthEast) and Access Living along with the National Alliance of HUD Tenants to plan and implement the forum.
Around 30 tenants participated in breakout sessions, on topics including: Maintenance, Security, Recertification, REAC inspections, Reasonable Accommodation, and Organizing Concerns.  Tenants identified issues and formulated demands to bring to HUD in a series of accountability meetings.  Each breakout session developed a concrete list of policy changes and solutions to increase tenant participation in management decision making and to improve living conditions.
Drawing from the issues identified at the Issues Forum, tenants will bring their concerns to the local HUD office in a HUD Town Hall meeting in early summer.  Tenants will present documented problems and individual experiences on to local HUD officials and demand accountability from the local office.  Any issue or policy change that remains unresolved will then be presented in a second HUD accountability session called Eyes and Ears in the late summer or early fall.  The Metropolitan Tenants Organization with its tenant leadership aim to improve living conditions and preserve aging housing stock in HUD subsidized buildings.