MTO, Access Living, and Progress Center of Illinois invite you to a Town Hall meeting to discuss critical housing discrimination.  The meeting will be held on:
Wednesday March 6, 2013
Garfield Park Conservatory
300 N. Central Park Avenue
Chicago, IL 60624
6pm – 8pm
Guest Speakers
Cook County Commissioners
Jesus Garcia
Larry Suffredin
Robert Steele
Topics of Discussion will include:
 Discrimination against people holding Housing Choice Vouchers segregates families and denies them equal opportunity to move into better areas
Foreclosure victims and relocation issues
Poor living conditions and their impact on communities and housing choices
If you hold a housing choice voucher and have experienced these issues, or if you want to get involved,
WE NEED YOU!
Come share your experiences with us
Help end housing discrimination/segregation
Support equal opportunity for everyone
For Information/Transportation call the Metropolitan Tenants Organization at (773) 292-4980 x 224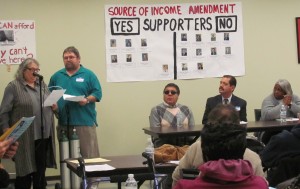 Photo:  Commissioner Jesus Garcia and Commissioner Deborah Sims hear testimonies from Housing Choice Voucher holders at the Town Hall meeting held on January 24, 2013 at Progress Center Illinois in Blue Island.