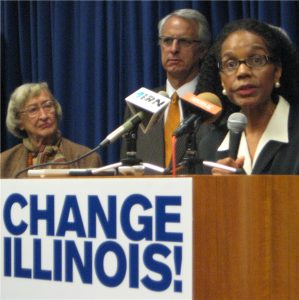 25 years of raising renters' voices & community preservation
Please join us to celebrate MTO's 25th Anniversary!
On Tuesday, May 4th at the Chicago Cultural Center in G.A.R. Hall & Rotunda, from 5:30 to 8:30pm, MTO is hosting a reception. Join us for hors d'oeuvres, wine, jazz and to honor some of our community's outstanding leaders! MTO will honor Deborah Harrington, former President of the Wood's Fund of Chicago and Steven Whitman, Ph. D, Director of the Sinai Urban Health Institute. The key note speaker for the event will be Congressman Luis V. Gutierrez.
Mayor Richard M. Daley will serve as the Honorary Celebration Chair and has agreed to issue a proclamation in honor of the occasion.
The following are several opportunities to support MTO and renters throughout the City in celebrating this milestone:
Buy Tickets
Table for 10 – $1,000.00 (limited availability)
Tickets – $100.00/person
Please consider sponsoring a renter scholarship ticket when you purchase some for your agency!
To purchase tickets by credit card on line:
1. Go to the MTO website at www.tenants-rights.org.
2. Under Support Our Work on the right hand side of the page, click on Donate Now.
3. Indicate the amount of your purchase and under Designation, indicate the number of tickets you are purchasing and write 25th Event.
4. Proceed as indicated.
Buy Ad-space in the Program Booklet
Full Page…………………………….. $300.00
Half Page…………………………….. $150.00
Quarter Page…..………………..…. $100.00
One Eighth Page…………………… $ 65.00
Single Line Mention……………. ..$ 35.00
Non-profit special package includes: 2 passes to the event & ½ page ad in Program Book….$300.00
Contact Kathy Cheney-Egan at 773.292.4980 ext. 230 or kathy@tenants-rights.org to purchase your ad or tickets today!
Deadline for inclusion on the print invitation is March 31, 2010. Deadline for ordering ad space is April 16th.