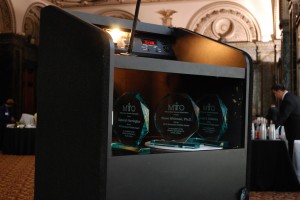 MTO Celebrates 25 Years of Raising renters voices and community preservation!
On May 4, 2010, friends, supporters, and staff members from across the years gathered at Chicago's Cultural Center to celebrate MTO's 25th Anniversary.  The occasion served as an opportunity to present several Chicagoan's with MTO's first Movement Builder awards.  This year's awardees were Deborah Harrington, former President of the Wood's Fund of Chicago, Steven Whitman, Ph. D, Director of the Sinai Urban Health Institute, and Congressman Luis V. Gutierrez.
We are grateful to our sponsors for making this event possible.
Silver Anniversary Sponsors
Bank of America
Universal Management Services, Inc.
Celebration Sponsors
Dolores and Paul Bernstein, Attorney at Law
LISC/Chicago New Communities Program
Dan Starr, Attorney at Law
Advocate Sponsors
California Indian Manpower Consortium, Inc.
Crossroads Fund
Edelman, Combs, Latturner & Goodwin, LLC
Laurie R. Glenn, Thinkinc.
Arthur S. Gunn, MST. CPA
David Morris, Attorney at Law
National Equity Fund
Melinda Power
Sargent Shriver National Center on Poverty Law
In-Kind Sponsors
Community Media Workshop
If you were unable to join us, below are some glimpses of the evening's festivities. You still have the opportunity to support our 25th Anniversary by clicking here and designating your gift as "25th Celebration." Thank you.