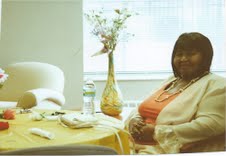 It is most fitting that the 2nd Annual Ralph Scott Award for Tenant Leadership will go to Rose Green, president of Rogers Park-based New Directions for Change, an organization which works on issues of low-income tenants, many of whom are voucher holders.
Ralph dedicated his life to working with and empowering low-income renters to assert their right to decent, safe and affordable housing.  For many of his years in Chicago, Ralph was a key force in the Rogers Park Tenants Committee which later became the Rogers Park Community Action Network (RPCAN).  Ms. Green epitomizes the work of Ralph.  Like Ralph Scott, Ms. Green as a Section 8 voucher holder became active with RPCAN in the late 1990s.
What drew Rose to RPCAN and organizing was her personal experience of having to face down discrimination on her own.  When Rose first received her voucher she was excited that it would help her with her housing costs.  As she searched for an apartment, she just could not find one.  There were plenty out there but the landlords would always say they didn't have one as soon as they learned she had a voucher.  Then according to Rose, "I went to a meeting at RPCAN and found out I was being discriminated against and I've been involved ever since."   Rose organized the Rogers Park Section 8 Tenants Council.
Despite health concerns, Rose has worked tirelessly for low-income tenants in general and subsidized tenants in particular.  She developed effective working relationships with the Chicago Housing Authority which helped her advocate for both individual voucher holders and issues affecting voucher holders as a whole.  For over six years, Rose has also been an ardent advocate for protecting suburban Cook County voucher holders from discrimination based on source-of-income.
Currently, she continues this work with New Directions for Change which has picked up the work where the Section 8 Tenants Council left off.  For several years now, New Directions has partnered with MTO in presenting tenant meetings and workshops in the Rogers Park neighborhood, for which Rose and her organization have also provided logistical support.  Rose is committed to ending discrimination.  She said, "I don't think it is right (discrimination).  I won't give up.  I don't want other people to go through what I went through."
To purchase tickets or to sponsor a housing choice voucher holder's attendance, please click here.