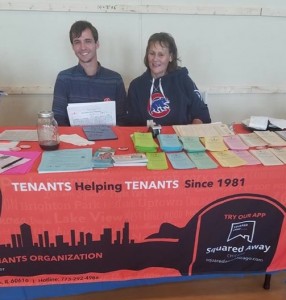 The 2016 Rents Rights Expo brings us yet another success story. Teresa came to the MTO table last year looking for help. She had multiple repair issues in her apartment and, fed up with the conditions, she wanted to move out. Her landlord refused to fix anything and told Teresa that he would not return her security deposit if she moved out. With help from MTO, she documented her issues, called 311, and wrote letters to her landlord. Finally, she took her landlord to court. 
On Saturday, Teresa stopped by our table at the Rents Rights Expo to give us an update. She won her case and got her security deposit back! She has since moved out of the apartment and found a much better home with a more responsive landlord. Teresa said she was excited to share her story with us because of how empowered her experience made her feel. She came out to the 2016 Renters' Day of Action and plans to volunteer with MTO in the future!
Knowledge about your rights creates tenant power, and tenant power changes lives. Thank you to Teresa, and to all of our Volunteers that helped make the 2016 Rents Rights Expo such a success. Volunteers counseled tenants and helped others use our free web app, Squared Away Chicago. Squared Away helps tenants document and address issues just like Teresa's. Next year we expect more tenants to return with success stories!
Together we can make housing a human right. To find out more about how you can get involved contact philip@tenants-rights.org today or call 773-292-4980 ext 246.