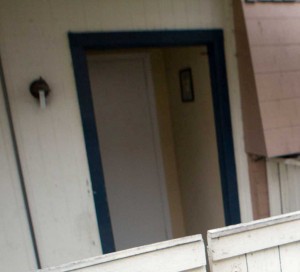 Right now, someone in Chicago is being locked out of their apartment by their landlord. These illegal evictions turn tenants' lives upside down. Families are uprooted from their homes, affecting their jobs, schools and their support networks. The majority of lockout victims are women. Most end up moving, too afraid to face their bully landlord.
Towanda Talley was not going to let her landlord intimidate her. Last week she came home from work and was shocked to find that the door to her Englewood apartment had been completely removed. Just days before, Towanda called the MTO Tenants Rights Hotline because the apartment she shared with her son had a mice infestation and there mold was growing in the bathroom.
Towanda and her son are model tenants; she has always paid the rent on time. So when she sent a letter requesting that her landlord make the repairs, she expected them to be addressed in a reasonable fashion. What happened next was anything but reasonable.
Towanda came home Friday evening to find her apartment completely accessible from the outside, the front door missing, hinges and all. Shocked, she spoke with a neighbor who told her that one of the landlord's employees had showed up, tools in hand, and completely removed the door to Towanda's apartment. He disappeared up the street, taking the door with him.
Towanda turned to MTO once again, ready to take action. As advised, she headed straight to the District Police Station to file a report. Officers initially told her, incorrectly, that the issue was "a civil matter". Undeterred, she requested to speak with a Supervisor, who ultimately assisted her in filing the report.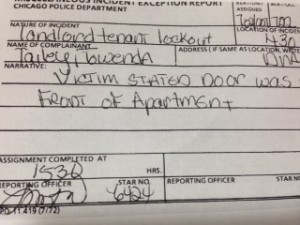 The landlord was nowhere to be found. So she called her son and hours later, he was there finishing installing a new door. Towanda will deduct the cost of the door off of her rent. The Supervisor issued a "Miscellaneous X" card and told her to call back immediately if the landlord or her employee return to the property. If they did, the Supervisor told her, they would be arrested.
This blatant act of retaliation is a clear violation of the law, and a cruel, inhumane way to treat any member of the community. Thankfully, Towanda's landlord hasn't been back.  
We must work to end this practice, because housing is a human right.