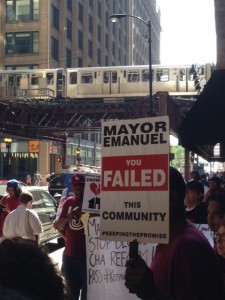 While many of us were revving up for the holidays, other Chicago residents were standing up against violations of civil and human rights across our city. On December 21, 2016 human rights organizers held a vigil in Ravenswood in front of Chicago Mayor Rahm Emmanuel's home.
Coffins, carnations, and candles symbolized the deaths of affordable housing, shelters, mental wellness clinics, health resources, school closings and the 700+ humans whose lives were ended by gun violence, including unjust fatal police shootings. Demonstrators expressed that community violence is not a stand alone issue, instead it is interconnected to the institutional violence and oppression of our city's historically racist, classist, and patriarchal politics and policies.
In the South Loop, public funds are currently being used to construct an arena for a private institution- DePaul University's new athletic arena. Public lands which were once public housing sites like the Ida B. Wells housing complex in Bronzeville is now home to Mariano's, after CHA and the city broke the promise they made to taxpayers and residents to rebuild the public housing they tore down during the Plan for Transformation (deconstruction of Chicago's housing projects).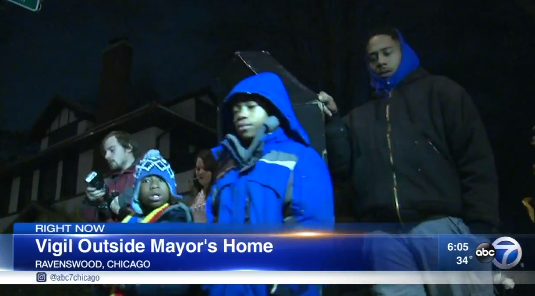 Housing is fundamental to the development of healthy people, healthy families, and healthy communities. Housing is a HUMAN RIGHT! We DEMAND a stop to the death of affordable housing and the violent policies sustaining race and class divides and deepening homelessness, police brutality and state sanctioned violence, community violence, inadequate education, and economic disenfranchisement. We must treat housing as a human right, not a commodity! It's time to pass the #KeepingThePromise Ordinance and protect public housing, not destroy it! Join us in the fight.
Authored by: Aisha Truss-Miller and Angelica Ugarte
___________________________________________________________________________________
Mientras muchos de nosotros nos estamos preparando  para las festividades, muchos residentes de Chicago están alzándose en contra  de la  violación  de los derechos humanos y civiles  que se practican a lo largo y ancho de nuestra ciudad. Este 21 de diciembre del 2016, organizadores de derechos humanos, realizaron una vigilia en el barrio de Ravenswood en frente del hogar del Alcalde de la ciudad de Chicago, Rahm Emmanuel.
Ataúdes, claveles y velas fueron los símbolos para representar no solo la muerte de viviendas accesibles, sino también la muerte de las clínicas de salud mental, recursos de salud, a clausura de escuelas públicas, y las 700 vidas humanas  cuyas vidas fueron cortadas producto de la violencia con armas de fuego, incluyendo los disparos fatales  perpetrados por  la policía, que se sospecha eran injustificados. Los manifestantes  afirmaron  que la violencia en la comunidad no es un problema por si solo, sino que está vinculado con la violencia institucional y la opresión de parte de nuestra ciudad que  históricamente ha practicado políticas y legislaciones racistas, clasistas y patriarcales.
En el "South  Loop" fondos públicos están siendo  utilizados para subsidiar la construcción de un estadio nuevo para una institución privada, la Universidad de Depaul. Terrenos públicos que alguna vez  fueron  sitios utilizados para viviendas públicas como por ejemplo el Complejo Habitacional Ida B. Wells en Bronzeville ahora  está ubicado  un supermercado Mariano, debido a que CHA y la ciudad rompieron  la  promesa que  hicieran  a los contribuyentes y a los residentes a través del Plan de Transformación (la demolición de los proyectos de vivienda de Chicago ) de reconstruir cierta cantidad de viviendas públicas y  viviendas  accesibles.
El derecho a una vivienda es fundamental para el desarrollo no solo de personas saludables sino que también de hogares saludables y comunidades saludables. El derecho a una vivienda es un DERECHO HUMANO Nosotros Exigimos un cese a la muerte de viviendas accesibles y a legislaciones  violentas  que mantienen la división de raza y clase aumentando  el número de personas indigentes, la brutalidad policial, la violencia autorizada por el estado, la violencia en la comunidad, la educación deficiente y la privación a los derechos económicos