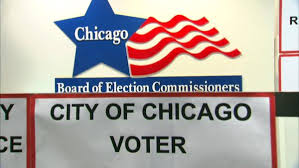 Voter registration for the upcoming Mayoral runoff is now open online and at the Chicago Board of Election Commissioners' office at 69 West Washington Street. You can also get mail-in registration forms at local libraries. March 10, 2015 is the deadline to use a mail-in form or the online system to register to vote — or update your registration address — for the April 7, 2015 election.
You can not register to vote on Election Day! Click HERE to learn when, where, and how to register.
Grace-period registration will be open through April 4. Grace-period registrants are required to provide identification and vote immediately after registering. For more information about hours of availability, locations to register or to vote, visit the Chicago Board of Election Commissioners' FAQ page.