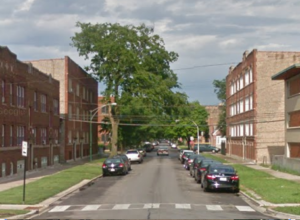 When Natasha Johnson moved into her new apartment in May 2017, she was excited to finally have a place that was in her budget and close to her job. However, within a couple of months of moving in, Natasha noticed mice in her dream apartment. "The manager said they would bring out an exterminator," Natasha explained. After months of no action, Natasha took matters into her own hands and purchased some poison and traps.
The traps and poison did their job, but the safety concerns started to worry Natasha, "When I bring my grandson over, I have to put the poison in a place where he can't get to it." Furthermore, bed bugs and a cold draft from a gap in the door became problems as summer turned to fall. That's when, Natasha decided to call MTO's Tenants Rights Hotline. Hotline staff provided her with assistance and sample letters for Bed Bugs and repair requests.
Natasha asked her building manager to hire an exterminator and fix the gap in the door.  Months went by. "I didn't sign up for this," Natasha expressed. Still paying her full rent and fed up with the service, Natasha called the City of Chicago's 311 assistance line to request the City inspect her unit. The apartment was not up to code.  The City fined Natasha's landlord.
"When they got fined, that's when they got really mad," said Natasha. In December 2017, building management claimed they had not received Natasha's rent, though she had the money order receipt to prove it, plus had been recorded on video dropping the payment at the collection box. They served Natasha a Five-Day Eviction Notice, which Natasha then paid by the deadline. Management again claimed they had not received payment, and filed an eviction. 

Luckily, Natasha stayed in touch with MTO throughout the process, and they had advised her to document her conversations with building management and keep all her payment receipts. Then MTO connected Natasha with Attorney Joan Fenstermaker who represented Natasha in eviction court. Ms. Fenstermaker proved the management's actions were retaliation, and Natasha was able to stay in her apartment.
Recently, Natasha's landlord fired the responsible employees responsible. And, Natasha has been spreading the word about her success with the Tenants Rights Hotline. Her advice to others in a similar situation is, "Don't leave, fight for it. If you pay your rent and don't do anything wrong, there shouldn't be a problem. I did every step they [Hotline staff] told me, and it worked out in my favor. You got to fight for your rights. I did and ended up winning."