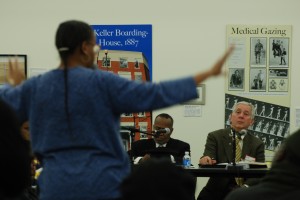 Wednesday, June 30th will be your chance to voice your concerns to Mr. Ed Hinsberger, Chicago Multifamily HUD Director, and Mr. George Gilmore, HUD Neighborhood Coordinator.
HUD Subsidized Renters are invited to attend a HUD Townhall Meeting. This meeting is for property-based Section 8 Chicago HUD Subsidized tenants only.
When: Wednesday, June 30th, 2010
Time:   1:00pm till 3:00pm
Where: Access Living
115 W Chicago Ave
The Metropolitan Tenants Organization along with Access Living are providing tenants of subsidized housing a platform to address their concerns regarding maintenance and management of HUD subsidized buildings.
For more information please contact:
Metropolitan Tenants Organization
Farid Muhammad
773.292.4980 x 236
faridm@tenants-rights.org
or
Access Living
Deidre Brewster
312.640.2100 x 132