During the winter season, MTO's hotline receives numerous calls from tenants about a lack of heat in their units.  When we ask what steps the resident uses to address the problem in the meantime, a frightening number report that they are using their gas stoves as a solution.  Some residents leave the burners on, some continuously boil large pots of water, and others leave the oven door open.  All of these actions can and do lead to carbon monoxide poisoning.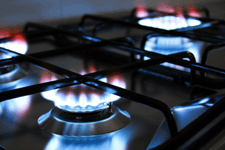 What prompted the writing of this post was a recent conversation with a tenant.  The tenant was following up to report the lack of heat in her unit.  She explained that not only was this problem irritating, but that her entire family has experienced constant headaches and she was even having trouble waking up, which was not normally a problem for her.  She mentioned that her sister had called her earlier and she hadn't heard the phone ring.  Her kids – especially her daughter who slept in the back bedroom near the kitchen— was having a lot of difficulty waking up for school.  All of these incidences are major symptoms of carbon monoxide poisoning.
Carbon monoxide can slowly put you to sleep and once asleep, you are unable to escape the hazard.  Hundreds of people die in a carbon monoxide induced sleep every year according to the Environmental Protection Agency (EPA).  Those that don't die from heating their homes with gas stoves still experience less than lethal, but still harmful, side effects.  "At low concentrations, [CO can cause] fatigue in healthy people and chest pain in people with heart disease. At higher concentrations, [CO can cause] impaired vision and coordination; headaches; dizziness; confusion; nausea. Fatal at very high concentrations." (USEPA)
So what should one do when it just gets too cold? Electric space heaters with safety mechanisms to prevent fires and other hazards are good options for small spaces. Tenants should also call 311, request a heat inspection, and get a reference number for their phone call. Generally, during the winter season, it may take up to three days for a heat inspector to conduct an investigation in your home.  For more information about your rights and possible remedies when heat or other essential services are not working properly, click here.
CLICK BELOW FOR ADDITIONAL INFORMATION ABOUT: