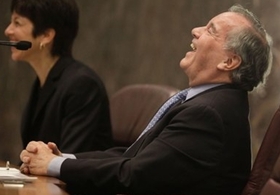 CITY COUNCIL PASSES CONDO CONVERSION ORDINANCE
With Mayor Daley overseeing his final Chicago City Council meeting, the aldermen unanimously passed a condo conversion ordinance.  The ordinance represents five years of struggle on the part of tenants, condominium buyers, community organizations and advocates.  This legislation will protect tenants and condominium buyers caught in the instability created by the conversion of rental buildings to condominium buildings.
The roots of this ordinance are found in the condo craze of 2005 to 2007, which ultimately contributed to the mortgage crisis and related foreclosure crisis.  In 2006, renters were being ejected from their homes with minimal to no notice and left those purchasing converted units with few protections against what was often a speedy and poorly implemented conversion process.  Quickly, those victimized in the process, along with their advocates, recognized the need for protections to be put in place.  This outcry resulted in Mayor Daley appointing Alderman Ray Suarez to lead the Condo Conversion Task Force.  The Task Force's work spanned almost four years and ultimately led to an ordinance that provides renters and condo buyers with critical protections including:
Changing the notification period from 120 days to 180 days.  For seniors and those with disabilities, notification would change from 180 to 210 days.
Low and moderate income renters receive relocation assistance.  The assistance equals the larger of one month's rent or $1,500 (up to a maximum of $2,500).
Consumer protections for condo buyers.
According to Zakiyyah S. Muhammad, a victim of condo conversion, "I enjoyed fighting for protections for families who rent so that they can avoid the devastation that I encountered.  This ordinance has been a long time coming; when you fight you win!"  MTO celebrates the victory for tenants' rights and the clear demonstration that tenants, working together, have the power to create change to protect their rights to safe, decent and affordable rental housing.
In another victory for affordable housing advocates, the City Council passed the Sweet Home Chicago Ordinance which allows TIF funds to be used for maintaining affordable housing.
The full text of the Condo Conversion Ordinance can be found here.